There are times in this pandemic when I've felt creatively lost. As the days and the weeks blended together, I found it difficult to spark my inspiration. In the past, I've found the bulk of my inspiration through talking and working with colleagues or simply traveling and seeing new places. Those solutions don't really exist right now, at least not in the way they used to. Through some time and effort I discovered new ways to keep myself creative and, in doing that, found myself growing in a few ways I didn't expect.
Read something (with pictures)
There are some artists that completely amaze me in their ability to tell stories visually. The artist Jean Giraud (commonly known as Möbius) illustrated entire visual worlds. I fell in love with his signature art style. After seeing images of his work online, I read a selection of his work titled The World of Edena. I took so much inspiration from his stories, use of color, and odd use of detail and negative space. Give it a read, or just look at the pictures.

Peek (but not too closely) at what others are doing
You could guess that I was using these curated design sites way before we were all at home, and you would be correct. The difference this time around is I found myself exploring mediums that I hadn't looked too closely at before: 3D, photography, and digital painting. It can be easy for this tactic to have the a negative effect, making you feel inferior in a sea of so many talented people. If you find yourself having these thoughts, just remember it isn't a race, and everyone is on their own journey—you'll create something great.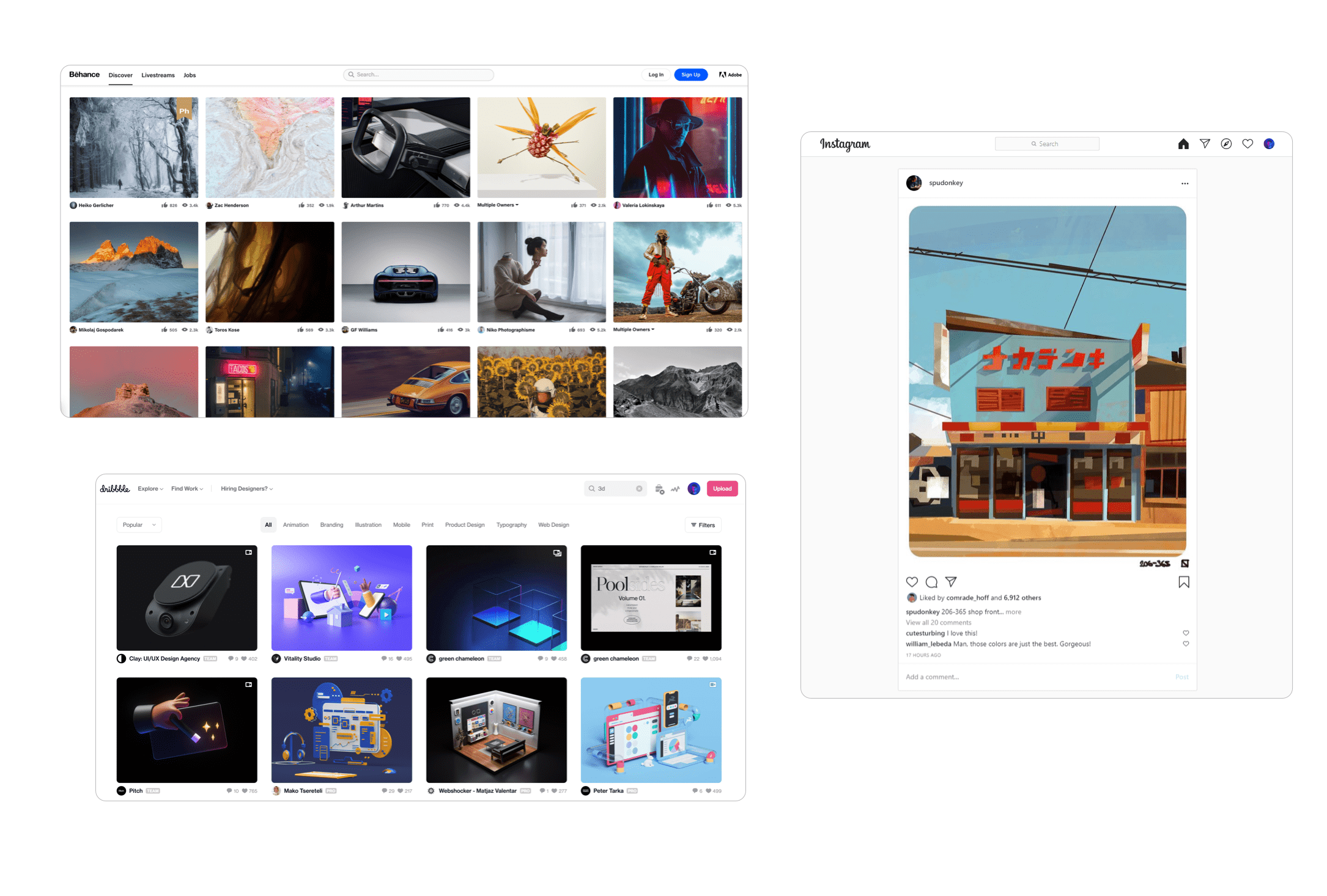 Draw more (fun stuff)
One last thing that has helped me get out of creative slumps is to draw stuff totally unrelated to the normal work I do. Sometimes this means exploring other mediums that I don't feel super adept at, like pixel art. Other times, it means breaking out the sketchbook and pen and doing some quick sketches. Have some fun with it and let your brain take a leisurely stroll.

Inspiration can be hard to come by, and sometimes the tactics that work one time around don't work as well the next time. I am looking forward to creating a space in Shareup for things that have inspired me, and sharing it with the whole team. If that sounds exciting to you as well, sign up for our newsletter and get early access when we release our first round of invites.